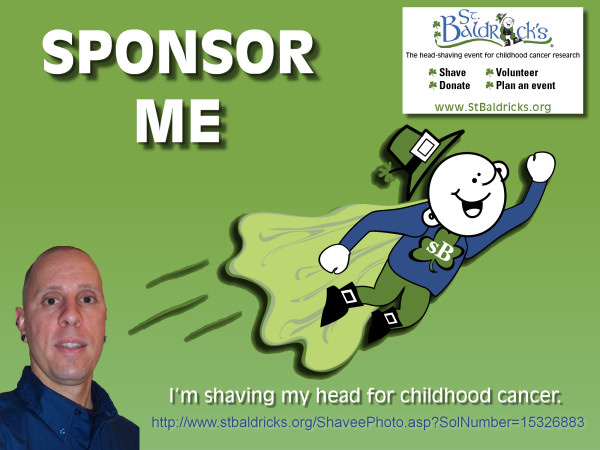 "Be a HERO for children with cancer". That is the call from St. Baldrick's, the organization that is shaving the way to Conquer Kids' Cancer. In the United States, 46 children are diagnosed with cancer every day. Today, with advances in medicine, 77% of those children can be cured. Unfortunately, cancer remains the leading cause of death by disease in children. St. Baldrick's is a whimsical twist on St. Patrick's Day - when brave volunteers agreed to shave their heads bald to raise funds for childhood cancer research. St. Baldrick's is an annual charity event that began with the goal of raising "17,000 of the 17th of March" in 2000. St. Baldrick's raises money for Children's Oncology Group, which is the leading research group for children's cancer research in the country.
Below is just a small selection of photos that I took at this year's event. This page may take a while to load unless you have a high speed internet connection. Contact me at mikebecvar@mikebecvar.com if you would like a CD of the original photos.
St. Baldrick's 2006
This year, I participated in the St. Baldrick's Event at Fast Eddie's Lafter Hours in Centreville, VA. Before the event, there were 28 shavees registered on the St. Baldrick's website. A few more brave individuals signed up to become shavees at the event.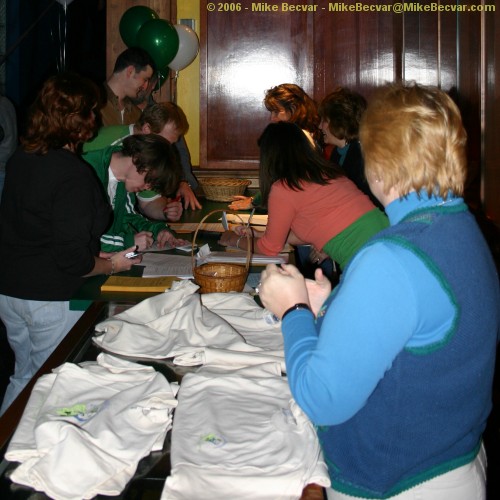 When the Shavees arrive, they stop to checkin, turn in their donations, and get a St. Baldrick's T-Shirt.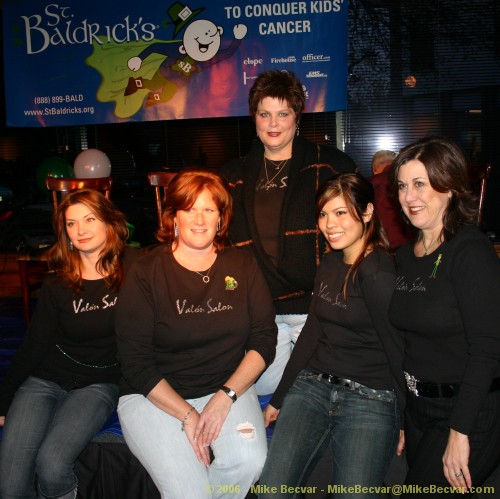 The barbers pose before the event begins.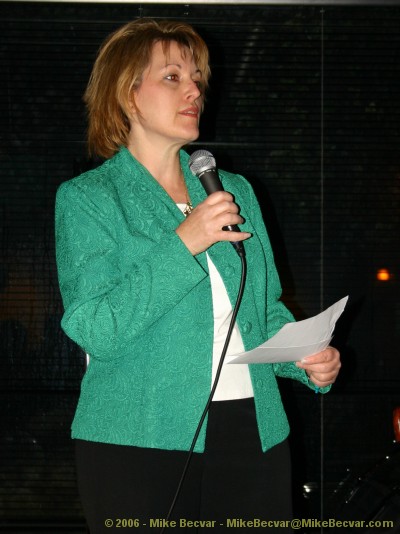 The St. Baldrick's Day event at Lafter Hours was planned by Meg Crossett. She kicked off the event with a few words.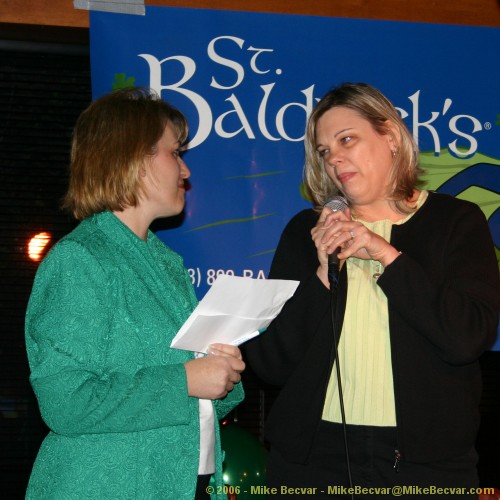 Meg Crossett introduced Becky Chapman Weaver from St. Baldrick's.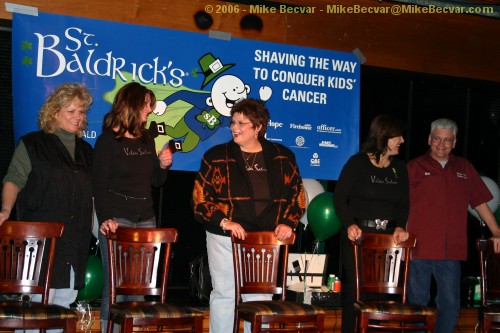 The five barbers take their places.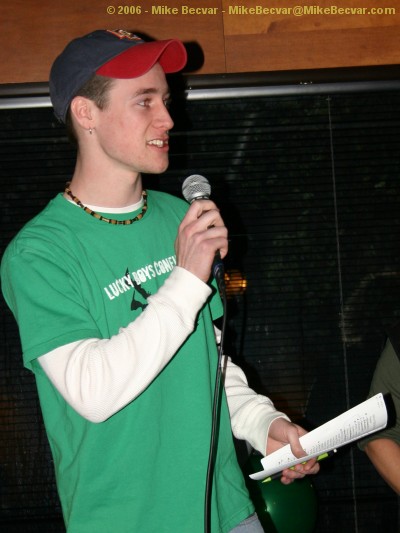 The MC introduced each shavee.
Mike Becvar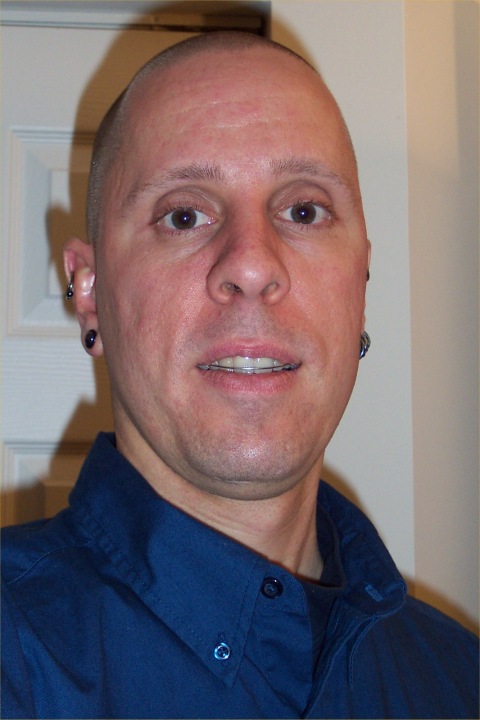 Mike Becvar's Official Before Photo for St. Baldrick's 2006. Yes, that is my before picture. I participated in St. Baldrick's events in both 2004 and 2005. With your support, I will continue to go bald for another year. A little hair is a small price for a good cause.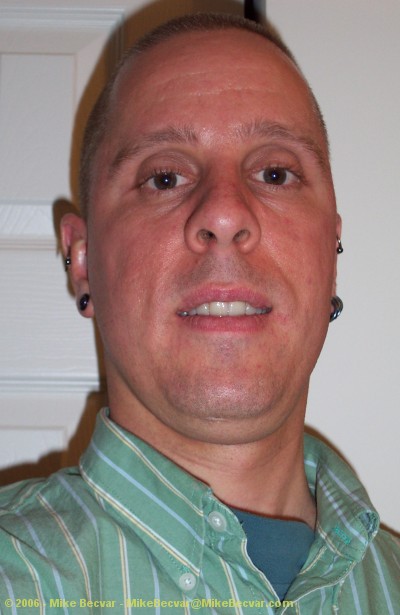 Mike Becvar's picture a few days before St. Baldrick's Day.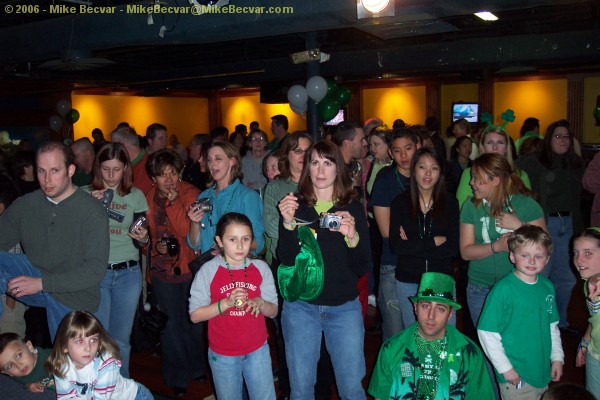 After sitting in one of the barber chairs, I pulled out my camera and took a few pictures. First was a view from the chair of the crowd gathered to watch.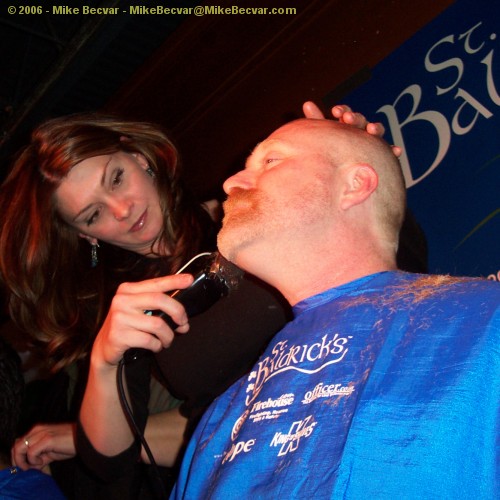 Steven Ratliff was in the chair next to Mike Becvar and he agreed to have his beard shaved.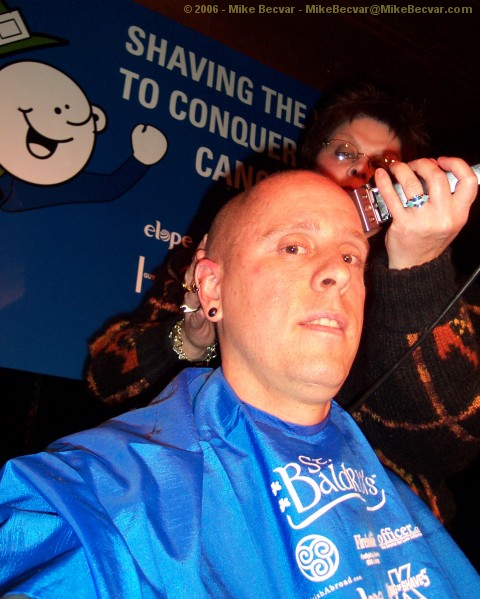 Mike Becvar in chair being shaved.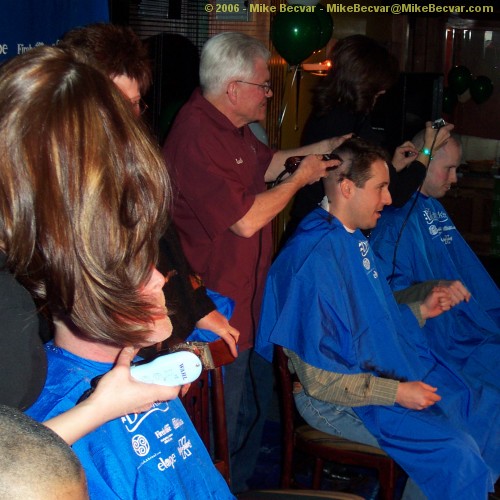 I took a few quick pictures from the stage after my turn was over.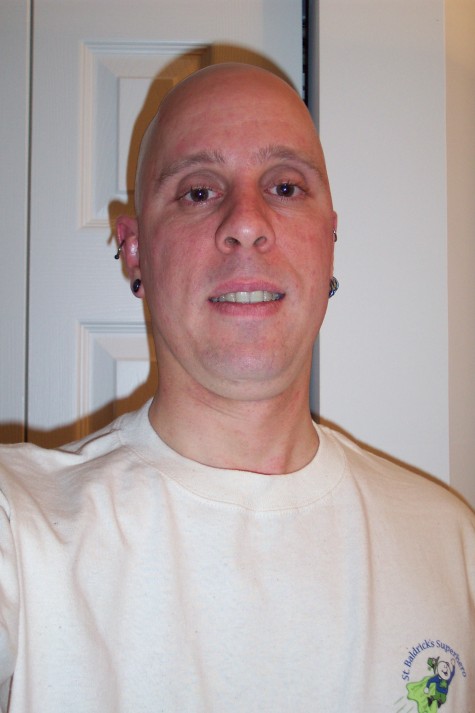 Mike Becvar's After picture posted to the St. Baldrick's website.
Shaving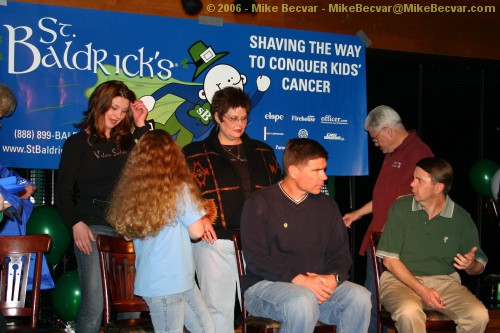 The first group of shavees take their seats.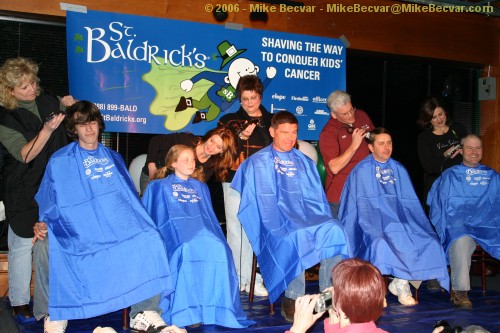 Let the shaving begin.
Hang loose!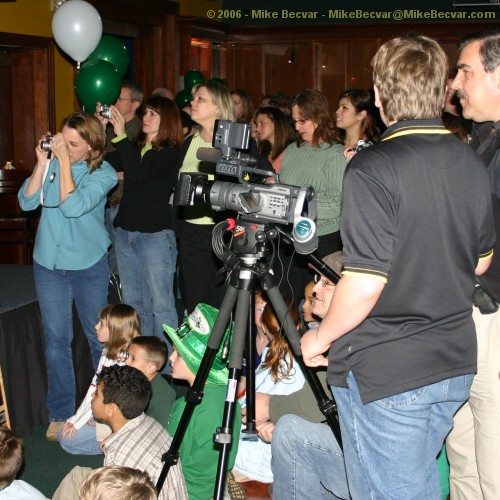 Family, friends, and a video crew from Westfield High School watch and take pictures.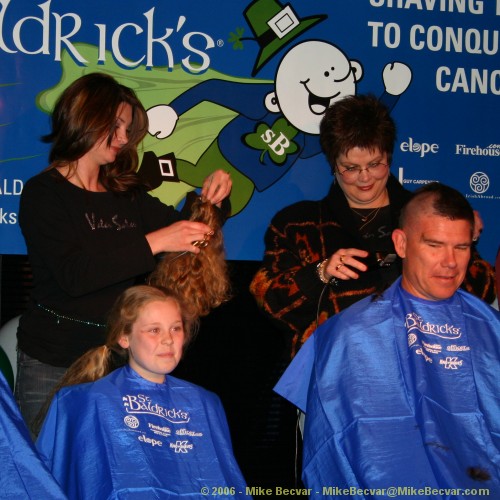 The barber holds a lock of Kate Ratliff's hair. Kate, a fourth grade student, was the only girl to be a shavee at the event.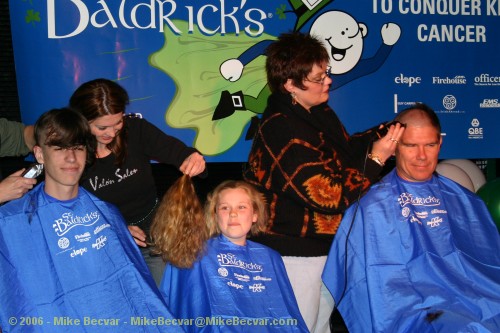 The barber holds a second lock of Kate Ratliff's hair.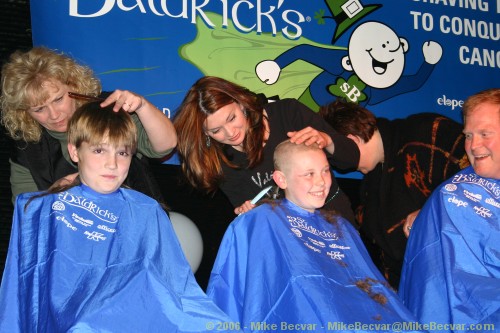 Were having fun!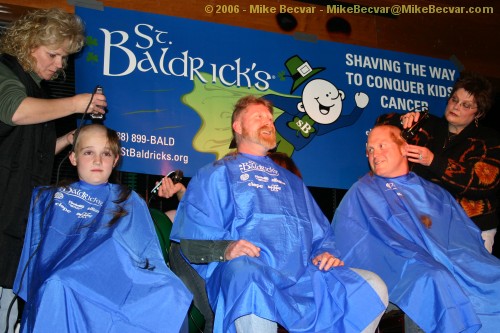 Kate's dad Steven Ratliff, in the middle, takes a seat. This is his fourth time as a shavee for St. Baldrick's.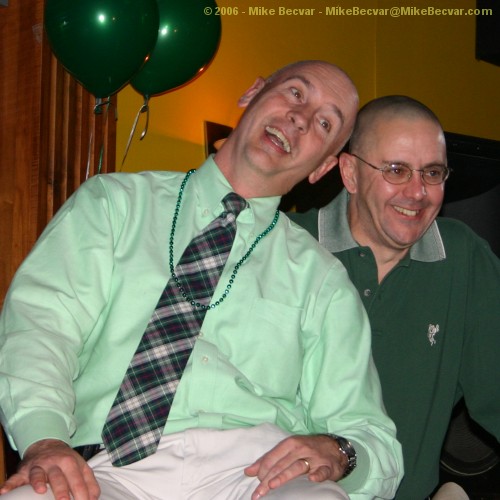 Don't they look great!
More Shaving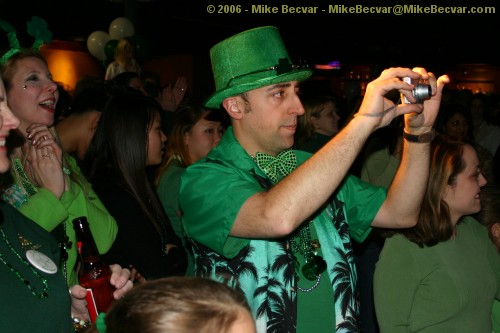 Since it was also St. Patrick's Day, almost everyone wore green.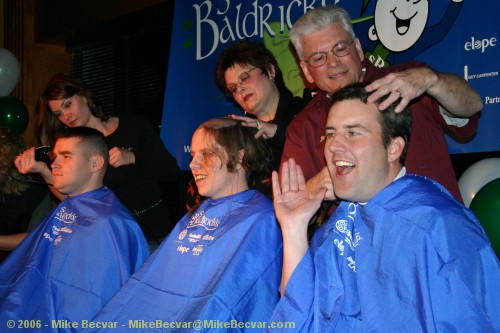 More Shavees having fun.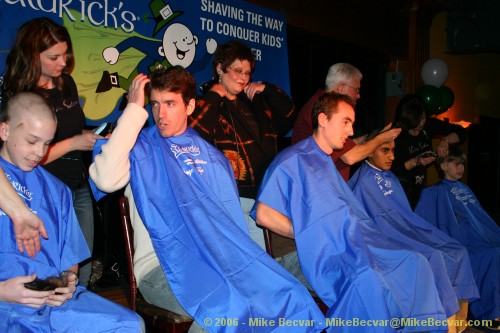 The last group of shavees, the Lawless and Crossett families.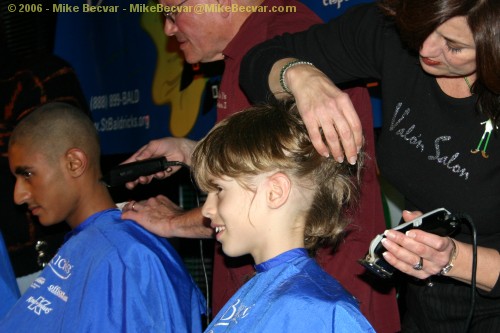 This won't hurt a bit.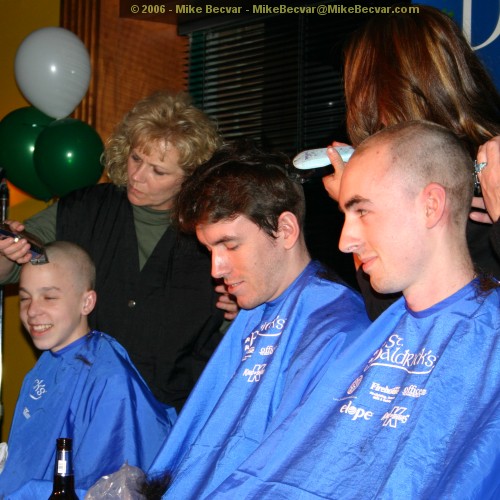 Look at the big smiles on their faces!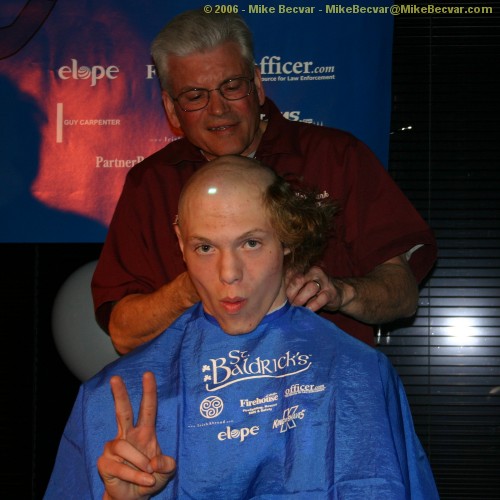 Peace!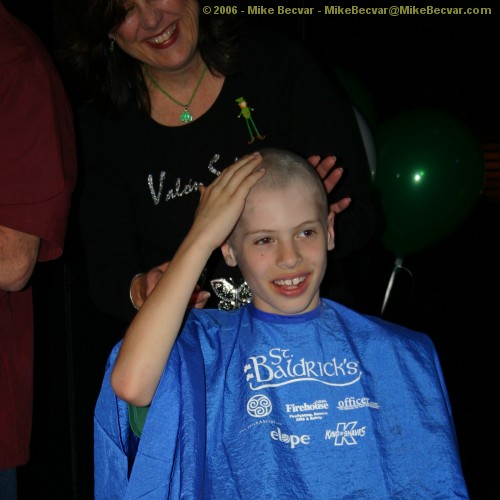 I don't have any hair!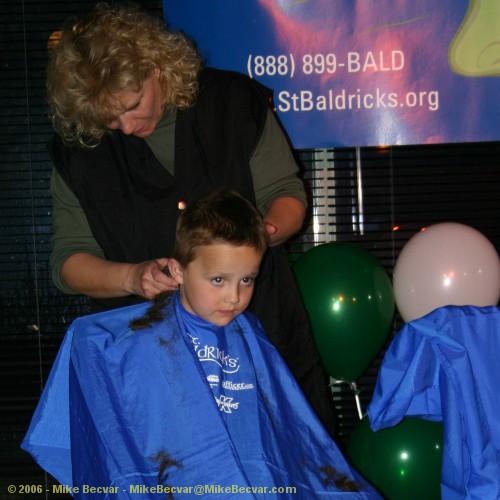 The last shavee!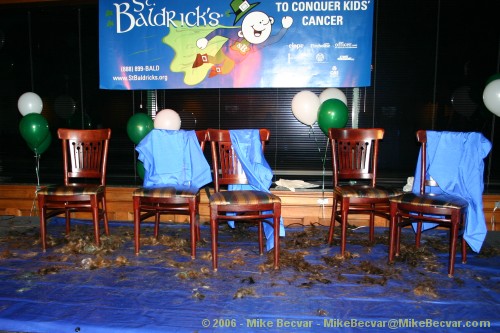 All done! Look at all of that hair!
Group Pictures
After all of the shaving was done, the shavees gathered for group photos.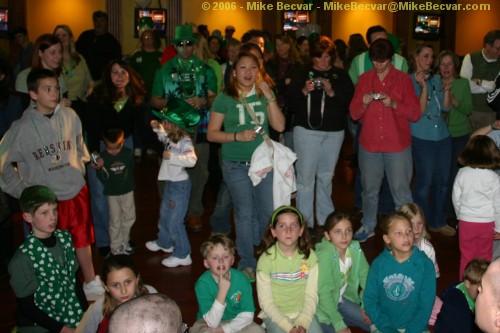 The crowd took many photos of the shavees and I decided to take a photo of the crowd.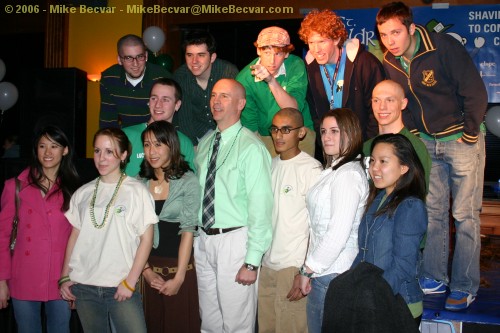 The students and principal from Westfield High School pose for a group picture.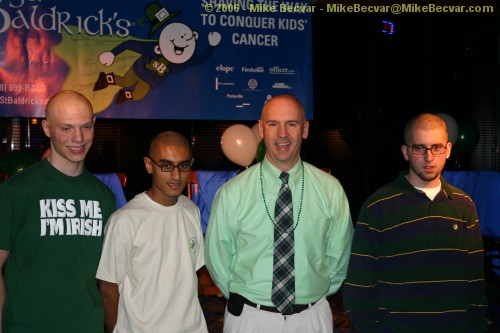 The bald men from Westfield High School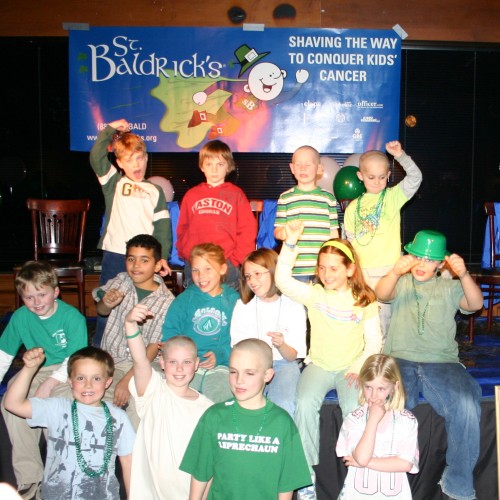 Students from Cub Run Elementary celebrate.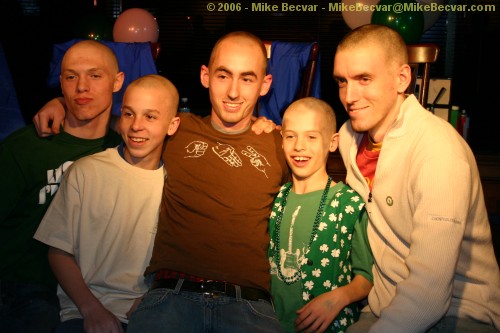 Five young shavees pose for a group photo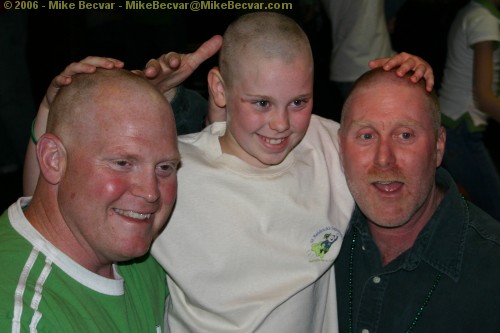 Howie Scott, Kate Ratliff, and Steven Ratliff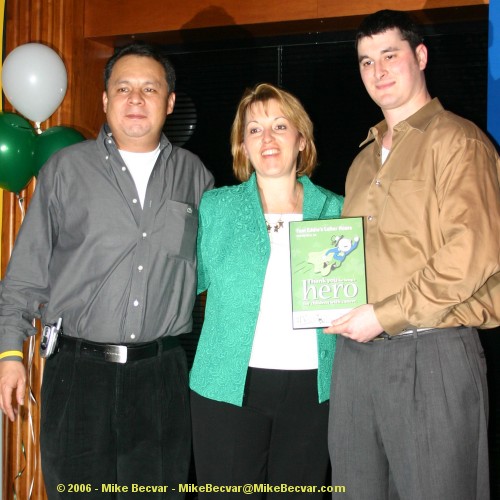 Meg Crossett presents a hero plaque to Fast Eddie's Lafter Hours